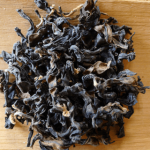 The finest teas are grown high in the mountains, hand-picked, and crafted with loving care and attention.
During my years in Taiwan, I have been privileged to participate in the harvesting and processing of small batch teas, cultivated with traditional methods to be as natural as they can possibly be. Thanks to the close relationships I've formed with local farmers, I've been able to source these exceptional teas for my company.
I search for tea grown without pesticides and fertilizers. If fertilizers are necessary, they must be organic. Those who support Leaf of the East share my belief in the benefits of sustainable farming. In addition to being kind to the earth, this practice results in healthier farming communities and happier tea drinkers. Teas made in this almost forgotten tradition are drinkable examples of why green is good.
Connoisseurs enjoy these teas in the most exclusive tea houses in Taiwan, leaving little behind for export. It is only by residing here among the tea fields that I've been able to acquire some of the best examples and am able to share them with my customers. They are ready for you now, along with the, handmade, wood-fired teaware associated with them.
To hear more about my journey in the tea gardens of Taiwan, follow my blog.