Weather, time, earth, and skill of the tea maker are the four major factors which determine a tea's character. To endure the time and weather with an end in high quality tea one must, like the QingXin Cultivar suggests, by way of it's translation into English, have a clear heart and mind.
At the top of the mountain, even wearing a light sweater and jacket, it's hard to chase away the damp, bone-chilling cold. These past four days, it's been a mix of too much rain and a bit of hail. This tempest has prevented the tea leaves from being picked, and perhaps just as alarming, the leaves picked prior to it must wait indefinitely to be withered. The intense rays of the sun, which fall along the Tropic of Cancer, are nowhere to be found. Instead, the leaves wait, air-drying, oxidizing, inside the "Quiet Resting Room", on their bamboo racks.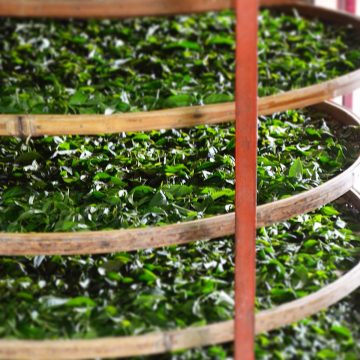 While the tea leaves rest, the sleep-deprived tea maker, Mr. Yu, catnaps. Facing the possible loss of a harvest, and an inability to meet the market's demand for his tea, he and his family simply wait it out. Monday there's supposed to be a break in the weather, and the tea-making process can hopefully begin again. Yet…The upside to this wait is that we sit and abide, exploring previous years' Red tea, (called Black tea in the Western Hemisphere). It's warming nature, its honey and cinnamon fragrance, are especially comforting in cold weather. Drinking Red teas from a year ago, or three, or ten is a great way to compare cultivars and harvest-times, while enjoying the gentle stimulation of the conversation around the table, and internally from living tea — the combination of tea-and-body playing on one-another.The experience of drinking these teas after they've had a long rest, letting their character, their ChaQi wash over one and bloom within is not to be missed. One in particular, a QingXin Red, went to all the places in my body that needed help — among them, various places that had aches from the weather outside or past physical and metaphysical injuries inside — soothing them.One mouthful of this kind of tea makes it easy to smile, easier still to pass that feeling on to others. On some level, drinking tea with others like this, informal as it is, can be a kind of energy work, shifting the mood of the place's exterior and interior toward light. On a basic level this begins with the sun's rays, the presence and quality of which influence greatly the aforementioned tea's character. Mr. Yu is a tea maker who, like most small-batch tea makers, still uses the sun and mountain breeze to oxidize his teas. Just how the energy from the sun and clean mountain air versus lighting in a warehouse and wind generated by electric fans create different quality teas is, as of yet unquantifiable. It is these metrics from nature, things which are, on average taken for granted, that give these exceptionally well crafted teas their mystique and magic.